Vallelunga Circuit
Vallelunga speedway circuit car and superbike race track near Rome, Italy

The Vallelunga Circuit is a car and superbike racing track located 32 km north of Rome. Vallelunga was built as a 1.8 km sand oval in 1959 and from 1963 the circuit hosted the Rome Grand Prix. In 1967 a new loop was added when the track became the property of the Automobile Club d'Italia (ACI). In 2004, work started on a 1 km extension to the track, bringing it up to its current length of 4.085 km (2.538 miles) in 2005. Races are run clockwise. The new configuration is certified by the FIA as a test circuit and is used by various Formula One teams.
Vallelunga circuit is also open for training runs by non-professionals.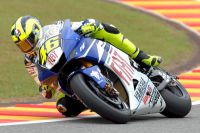 Mugello Circuit
Information on the race track in the Mugello near Florence.
Accommodation near Mugello Race Track.